The 7 best places to see in Cape Town and surroundings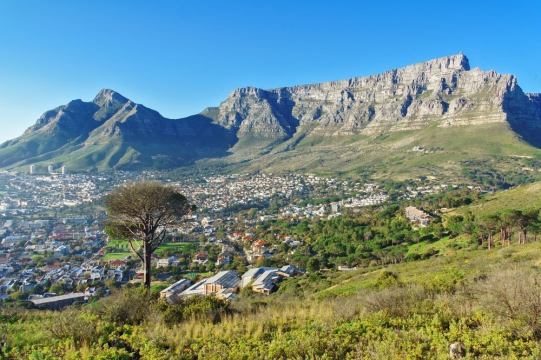 Cape Town is a dream for many travelers. It is the perfect place. Beaches, sea, mountains, city, culture. A mixture of historical situations that make this place a spectacular place. When you go on holiday it is normal that you want to get away from the cities. You are looking for places for your pleasure and rest. However, Cape Town is a city that has it all. Known as "Mother City" for being the oldest city and a must in a holiday package to South Africa, Cape Town awaits you to show you what it has best to offer. These are the 7 things on the list of what to see in Cape Town.
What to see in Cape Town?
Table Mountain, the majestic welcome that gives you Cape Town
This is without a doubt, the first place to see in Cape Town. If you see that the sky is clear, as it rarely happens, it is the plan that you must consider. You cannot leave Cape Town without getting there.
You must get to the cable car station and go up to this plateau that is more than a thousand meters above sea level. You understand now the importance of a clear day. It's a thousand meters over Cape Town! It is a fact that the views you will get from this place will be unique and impressive. Nowhere in the world will you find a place that leaves you breathless like this.
As you can see, in just one of the options, Cape Town has already left you speechless. Of course, it's worth knowing this paradise.
Nelson Mandela's prison, Robben Island
The political history of South Africa is one of the most important things and one of the principles of African culture in the world. Nelson Mandela represents the union of a country that has become an example for the world. A country where the differences of classes, colour, culture, disappeared due to the good work of a great man.
Twelve kilometers from the coast is the island of the seals, a World Heritage Site by UNESCO in 1999. It was used as a prison during the colonial era and during the years that apartheid lasted. Here, the most famous prisoner was Nelson Mandela, who for 18 years was held in this place.
A painful story that was surpassed by Mandela himself. Do not forget to include in your list of things of what to see in Cape Town.
The oldest building in South Africa
The Castle of Good Hope is the oldest standing building in all of South Africa. In Afrikaans (a Dutch dialect spoken in South Africa) Kasteel die Goeie Hoop. It has a pentagon shape with stars at the tips, it is also the best-preserved fortress of the Dutch East India Company.
The neighborhood of Bo-Kaap
This is a colorfull neighbourhood that draws attention and reflects South African joy. In this place lives the largest Muslim community of Cape Town.
The diversity in its maximum expression, art, color, culture, religion, politics. A vibrant city that shows tolerance and respect after suffering a sad historical period of racism and separation.
Long Street
A place to have fun and enjoy. With colonial buildings, this street enters the list of 7 things of what to see in Cape Town, due to a large number of hostels, shops, food stalls, restaurants. You will always find people of all kinds in this place and although sometimes it seems an insecure place. If you follow common sense it will be all right.
What to see in Cape Town surroungins?
Have contact with penguins around Cape Town
Cape Town is surrounded by natural places that you should enjoy, so travel a few minutes away from the city and you can find penguins. In the city of Simon's Town, 45 minutes from Cape Town, you can find a small beach populated by a colony of African penguins.
It is difficult to find a place in the world where you can observe this precious animal from so close and even interact with them. However, it is good to keep in mind the limits and on many occasions, it is better to observe and marvel at a little distance. This species, which, although it has done a great job for its conservation and has increased its population, is in danger of extinction.
Face to face with a white shark
Natural wonders and unique experiences are what you discover in this place in South Africa. Cape Town is one of the few places where you can find yourself relatively easy with one of the most feared beings in the ocean. Attracted by the small seals that live on the South African coasts, white sharks can be seen by the more adventurous who dive to have a face to face with this beautiful and feared animal.
Cape Town still has a lot to offer, what would you add to our list of places to see in Cape Town?