How to travel to Brazil without leaving your home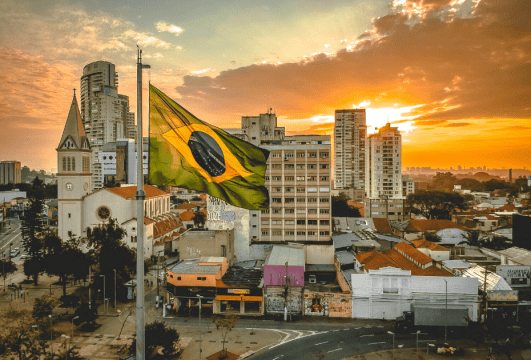 Recent events have shown that we are a creative bunch. And although a travel ban is in full effect, with a bit of endeavour we can still savour the delights of foreign shores. Take this opportunity to dive into exotic cultures with our simple 4-step guide on how to travel without leaving your home. In this edition, we head to the melting pot of Brazil to give this quarantine a much-needed dose of Latin flair.
4 steps on how to travel to Brazil without leaving your home

1. Start with a song – O Leãozinho by Caetano Veloso
The music of Caetano Veloso is the perfect antidote for times like these. Veloso takes the musical flow of his mother tongue and creates mesmerising music that is inherently Brazilian. As one of the key founders of the Tropicalismo movement, this talent magically blends pop with pioneering South America beats. In fact, he is quite rightly held in the same regard as Bob Dylan in his home country.
Unlike the brash rhythm of samba, this song unearths the fragile beauty of Brazil's deeper side. The jaunty guitar skips happily along as if unaware of Veloso's velvety lyrics laced with even softer whistling. Start with this achingly beautiful song before travelling through his impressively large discography to sample the many melodies of Brazil.
2. Grab a book – The Alchemist by Paulo Coelho
Ok, we have to admit that this book doesn't directly feature Brazil; in fact, it's about a journey from Spain to Egypt. However, Paulo Coelho's enchanting prose was crafted on the streets of Rio de Janeiro. This mesmerising novel shows the power of dreams to overcome adversity. Again, this is another piece of Brazilian art that helps soothe worries in these turbulent times. Therefore, open this bestseller to let Coelho take you on a magical adventure to discover what treasures truly matter.
3. Make feijoada
The word feijoada derives from the word feijão, which is Portuguese for beans. This hearty black bean stew can be whipped up with a variety of cuts of pork or beef. However, the more traditional feijoada normally features cheaper – yet extremely tasty – parts of the animal including ears, feet and even beef tongue. Served with rice, green vegetables, orange slices and topped with toasted cassava flour (farofa), this dish embodies the vibrance of Brazil. 
Ingredients
250g dried black bean, soaked overnight, then drained
100g streaky smoked bacon, cut into slices
500g pork rib
3 chorizo cooking sausages
500g pork shoulder (cut into cubes)
3 onions (finely chopped)
4 garlic cloves (finely chopped)
fresh chillies or chilli flakes
olive oil
2 bay leaves
2 tbsp white wine vinegar
To serve
steamed rice
chopped parsley or coriander,
hot chilli sauce
wedges of oranges
Instructions
Heat a large heavy-based saucepan with a fitted lid, add the bacon and fry until crisp. Remove and keep the oil in the pan. In batches sear the ribs, sausages and pork shoulder. Season each batch with salt and pepper while cooking.
Remove the meat and leave to one side. After, add the onion, garlic and chilli to the pan. Pour in a little olive oil if it needs more. Season with salt and pepper and fry for 8 mins or until golden.
Add the meat, bay leaves, white wine vinegar and drained beans. Pour over just enough water to cover, about 650ml. Bring to a boil and reduce the heat to a low simmer. Keeping it covered, cook for 2 to 3 hrs, or until the beans are soft and the meat is tender. If there is too much liquid in the pot take the lid off for the last hour of cooking to allow it to evaporate. 
Serve with rice, a sprinkle of parsley or coriander, hot pepper sauce and orange slices.
Mix up a caipirinha
Having a caipirinha in hand is a must when partying in Brazil. The rum-like cachaça used in this punchy cocktail is not the best on its own. However, the lime and sugar blend perfectly with this shockingly strong spirit to make it ever so drinkable. If you like mojito, you're going to fall in love with this. Follow our steps below to splash your quarantine with some carnival spirit straight from the streets of Brazil.
How to make a caipirinha
Ingredients
50 ml of Cachaça
1 brown sugar cube
2 lime wedges
Soda water (optional)
Instructions
In the bottom of the glass, muddle the lime wedges and sugar until well mixed.
Add crushed ice, cachaça and soda water.
Stir the mix while making sure all the sugar isn't left at the bottom.
Add a generous a wedge of lime in the glass to serve
As always, let us know how your trip went by commenting on our Facebook page using the hashtag #travelathomewithexoticca