Christmas Holiday Destinations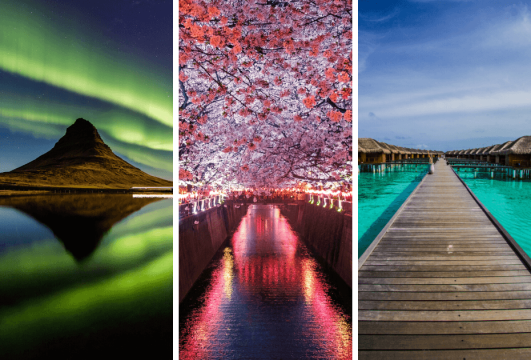 Want to escape your mother-in-law's looming presence when basting the turkey? Does uncle Derek and his outrageously un-PC comments make you long for January? Here at Exoticca we've compiled a list of our best Christmas holiday destinations to rescue you from the perils of Yuletide.

Scandinavia
It is common knowledge that Scandinavia is a pilgrimage for true lovers of Christmas. From Sweden's Christmas gnome, Tomte, to Sauna-smoked ham in Finland – the Nordic nations come alive with their own unique festive traditions. A visit to the grottos and snow swept pine trees of Lapland, is magical for little ones and big ones alike. Whizz through the winter wonderland via snowmobile, in search of reindeer and Santa's workshop. End the day in a cosy log cabin with a stacked plate of waffles and a generous serving of Glogg (Scandinavian mulled wine). If you insist on doing as the locals do, bed down for the night in a Goathi (a traditional Sami tent).

Alongside the many festive delights of this part of Northern Europe one spectacle trumps them all: the Northern Lights. Of course catching a glimpse of this winter phenomenon is no easy task. However, a front row ticket to this lightshow of glowing hues unfurling from the heavens is a hard Christmas gift to top.
The Maldives
Trade biting winds and grey skies for turquoise waters and dreamy sunsets. The Maldives have an uncanny knack of banishing stress – the festive period is no exception. A winter retreat to this paradise is all about outstanding service, impeccable cuisine and spending the day reclined at 45 degrees. Come to think about it, the mantra of these islands seems tailor-made for Christmas.

If you think the allure of the Maldives is one dimensional, take a peek at our article of what to do in the Maldives. 
Danube river tour
Culture vultures hovering over Christmas holiday destinations look no further. Our Christmas Danube River Cruise winds through fascinating cities clad in festive attire. This exclusive trip starts with the charms of Vienna, Melk and Durnstein, before floating down river to the Christmas markets of Budapest. Our luxurious full board tour then heads 20 miles northwest to Esztergom, one of the oldest cities in Hungary. The cobbled alleyways and quaint cafes of Gothic Bratislava, bring this exclusive trip to an end.
This enchanting eight-day cruise is an idyllic way to savour the festive traditions of Europe.
Iceland
The land of fire and ice astounds with its breathtaking mountains, sky blue lagoons, and geysers shooting up into star-laden skies. However, with temperatures often plummeting below – 25, Iceland will put the thread count of your Christmas jumper to the test.

Boasting an array of natural wonders of the biggest, best etc., it is no surprise that the number of visitors flocking to this Nordic wonderland has skyrocketed. To find out more about what to do in Iceland in winter take a look at our top five.
Japan
A land of serene buddhist temples and sprawling, modern urbana, isn't the first festive destination that comes to mind. Awash with Oriental tradition and truly unique culture, Japan is for those yearning a change of scenery.
It should be noted that only one percent of the population is Christian. The lack of tradition has allowed the Japanese to meld this celebration with other facets of western culture. For instance, many locals wouldn't dream of spending Christmas without a large festive bucket of KFC.
Start your adventure in the heart of Buddhist Japan in Kyoto. Witness the locals' take on Yuletide in this enchanting city. Don't miss out on a trip to the beautifully preserved Higashiyama District, to immerse yourself in the country's imperial past. After, return to the centre to meander through the glowing avenues, or even join the queues at KFC.
In spite of not having Christian celebrations on the 25th, thousands flock to the Chion-in temple for the annual O-minugui Shiki (Wiping Ceremony) – a spectacular musical tribute to the birth of Pure Land Buddhism. Wrap up the big day with a trip to the western outskirts of Kyoto, for a hike in the surreal bamboo forests of Arashiyama.

Give your next Christmas a touch of travel luxury this Christmas with Exoticca.