How to travel without leaving your home: Cuba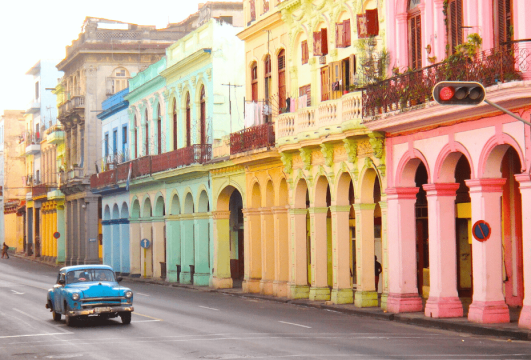 This month there's only one place to be: indoors. However, that doesn't mean that your craving for wanderlust needs to go on hold. Follow our steps on how to travel without leaving your home to savour the culture of foreign climes. After giving you a glimpse into other Latin American countries, today we continue with the rebellious vibrance of Cuba. 
4 steps on how to travel without leaving your home
1. Start with a song: Guantanamera by Compay Segundo
This jaunty Latin classic is Cuba in a song. The saying of "guajira Guantanamera" (one of the lyrics in the song) means "peasant girl from Guantanamo". In spite of the origin of the song being disputed, most agree that it was based on a poem by the late great Cuban writer, José Martí.
Originally the song was made popular in Cuba by Joseito Fernández in the 1930s. In fact, his radio slot was even called "La Guantanamera". He regularly played the tune on the show but would often change the song's lyrics when playing it to suit topics of the time; however, the part about the peasant girl always remained. Of course, a song as emblematic as this for a country bathed in Latin Rhythm has had its fair share of versions. Yet we think this rendition by Compay Segundo from Buena Vista Social Club towers above the rest. Put on this Cuban ballad to help your worries drift away on a Caribbean breeze.
2. Grab a book: I Gave You All I Had by Zoé Valdés
A finalist for the Planeta Prize, Spain's most prestigious literary award, I Gave You All I Had is an audacious, yet extremely human work of fiction that takes you on a tragic venture into Cuba's turbulent past.
The story's main protagonist, Cuca Martinez, heads to Havana in search of work. While in the capital she falls for the seductive glamour of the vibrant nightlife. Soon after, she meets the love of her life. This incredible novel by Zoe Valdes, filled with vivid insights into the sultry side of Cuba, gives a tragic account of a country ripped apart by revolution. Furthermore, it gives a human angle on this fascinating time in modern history.
3. Get cooking: ropa vieja
Literally translating as old clothes, we assure you that it's far tastier than its name suggests.
Like many great parts of Cuban culture, ropa vieja started life in Spain. Legend has it that a poor old man once shredded and cooked his own clothes because he could not afford food for his family. While his clothes simmered away, he kneeled and prayed and, in turn, a miracle occurred: the clothes transformed into a delicious meat stew.
This comforting dish travelled to the Americas with the Spanish people, where it became a staple dish across the countries of the Caribbean. And although the recipe has been tweaked over the years, the fundamental base of ropa vieja has barely changed.
Usually this dish is made with cheap cuts of beef such as flank steak, which is lean and, unsurprisingly, looks a bit like torn clothes. Try serving this with fried plantain to bless it with some Caribbean sweetness.
Ingredients
1 tablespoon vegetable oil
900g beef flank steak
240ml beef stock
250g passata
1 small onion, sliced
1 green pepper, seeded and sliced into strips
2 cloves garlic, chopped
170 g tomato puree
1 teaspoon ground cumin
1 teaspoon chopped fresh coriander
1 tablespoon olive oil
1 tablespoon white vinegar
Instructions
Heat vegetable oil in a large frying pan over medium-high heat. Brown the flank steak on each side, about 4 minutes per side.
Transfer beef to a large pan. Pour in the beef stock and passata, then add the onion, green pepper, garlic, tomato puree, cumin, coriander, olive oil and vinegar. Stir until well blended.
Cover, and cook on High for 4 hours, or on Low for up to 10 hours. When ready to serve, shred the meat more and serve with tortillas or rice.
Mix up a cocktail: mojito time
As is usually the case with other cocktails, the full origins of this zesty beverage are not clear. This, however, hasn't stopped it taking the world by storm. From the US to Uganda, a mojito is a crowd pleaser. Say cheers to this Cuban invention by mixing up a few glasses of this refreshing delight.

Ingredients
juice of 1 lime
1 tsp granulated sugar
small handful mint
leaves, plus extra sprig to serve
60ml white rum
soda water (not always necessary)
Instructions
Muddle the lime juice, sugar and mint leaves in a small jug or glass, crushing the mint as you go.
Pour over the rum, whilst giving the mix a good stir with a spoon. Top up with soda water, garnish with mint and serve.
As always, let us know how your trip went by commenting on our Facebook page using the hashtag #travelathomewithexoticca