Travel to Argentina without leaving your home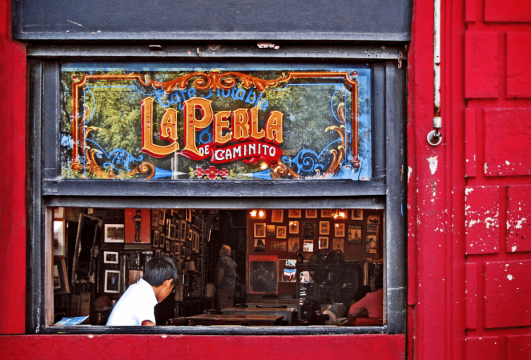 Yes, we may have to wait a bit longer before we are packing our bags again. Yet with a bit of creativity, we can savour the delights of incredible destinations far from our shores. Follow our steps on how to travel without leaving your home to immerse yourself in different cultures every week. Today we're delving into the brash yet achingly romantic charm of Argentina.
How to travel to Argentina without leaving your home
1.Start your day with a song
Originating from the streets of Buenos Aires in the 18th century, tango was the dance and music of choice for European immigrants. Soon after spilling out on to the streets of the Argentine capital, it filled dance halls around the world. Due to its rich history and numerous types and styles, the sound of tango perfectly encapsulates Argentina's wealth and rich immigrant culture. Of course, there are numerous tango musicians that deserve a mention. However, Astor Piazzolla's transformation of the genre allows him to tip toe above the rest. Unlike the others, Piazzolla revolutionised tango by weaving in elements of Jazz and Classical music to transform this old style into a deep, enchanting sound. As a result, the genre of 'new tango' was born. This delicate song in partiulcar deftly reflects Argentina's dramatic fall from being world's richest nation. 
2. Grab a book – In Patagonia by Bruce Chatwin
Bursting with fascinating tales of the region's past, this firsthand account of Chatwin's adventure into Patagonia provides an enthralling insight into Agentina's southern frontier. In fact, upon being published in 1977, In Patagonia was instantly lauded as a masterpiece. So open up this modern classic, melt into a good chair and lose yourself in the wilderness of South America.
3. Asado with chimichurri
The alluring aroma of Asado fills the air of every town and city of Argentina – and quite rightly so. No it isn't just a barbecue, or a cultural tradition, it's a source of national pride. So much so that Argentines reacted to a recent study linking meat consumption with cancer by saying they'd rather die than give it up.
Firstly, we understand in order to create a roaring pyre to cook grand slabs of meata garden, or even a park, is required. Therefore, we suggest grilling some typical cuts found in Argentina such as beef ribs, skirt steak and sausages, and serving them with a homemade chimichurri. This piquant sauce is the accompaniment of choice to grilled meats in Argentina.
How to make chimichurri
Ingredients
1/2 cup olive oil
2 tablespoons red wine vinegar
1/2 cup finely chopped parsley
3-4 cloves garlic
2 small red chilies
3/4 teaspoon of dried oregano
1 level teaspoon coarse salt
Pepper (to taste)
Instructions
Mix all ingredients together in a bowl. Allow to sit for 5-10 minutes to release all of the flavours into the oil. Ideally, let it marinate for 2 hours.
Spoon over meat to add a zesty kick .
4. Mix up a Fernet and coke
Fernet and Coke is the drink of choice at any one of Buenos Aires' bustling boliches (nightclubs). Although neither ingredient hails from Argentina, it is, without a doubt, as Argentine and as popular as the Pope. The slightly medicinal tang of fernet balances the caramel tones of a full fat (never diet) coca cola. If you're partial to a Cuba Libre, this Argentine classic is a must-try.
Ingredients
Instructions
Mix the Coke and Fernet 2 to 1 in a tall glass of ice. Yes it's that easy.
 Let us know how your trip went by commenting on our Facebook page using the hashtag #travelathomewithexoticca