Top 9 best beaches in Chile that will surprise you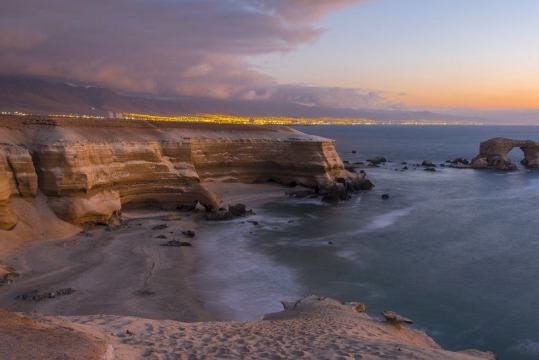 Chile is one of those gorgeous countries that remain unexplored for most of us. Despite this, it doesn't take a deep investigation to find some natural wonders that will truly amaze the visitor. Take, just an example, this top 10 ten best beaches in Chile. All of them are beautiful corners bathed by the Pacific Ocean, Be careful, though, water temperatures vary radically from north to south.
1.- Punta Choros
Punta Choros is the name of a small fishing village where some of the best beaches in Chile hide.  The area stands out for its calm waters and extraordinary marine biodiversity. This is one of the best beaches in Chile to see dolphins, whales, sea lions, and other species.
Its most famous beaches concentrate around Isla Damas, which is part of the Humboldt Penguin National Reserve. Here you will enjoy beaches of crystalline waters and white sands. The most beautiful landscapes are in Playa Las Tijeras and Playa La Poza. This last one is the only one that is suitable for bathing.
2.- Cole Cole Beach
Located in the Chiloé National Park, Cole Cole takes the second place in our top ten of best beaches in Chile. It is huge and offers cold waters and golden sands. You will not be able to swim here, but will surely enjoy its scenic beauty. An endless deserted esplanade surrounded by hills covered with green.
To get here you must cross a trekking route of about 8 kilometers, passing by cliffs close to the sea and native forest, with viewpoints that allow extraordinary views from different heights.
3.- English Bay
More than one of the best beaches in Chile, in English Bay you will find a spa located 6 kilometers from the city of Caldera. The town is famous for its beautiful white sand beaches and turquoise waters. Big black rocks form nice small natural pools.
While there are three beaches located in the resort: La Piscina, El Chuncho, and Blanca, you can find many more in their surroundings. All of them offer soft sands for walking and crystal clear waters. The sea here is calm and warm, ideal for swimming and other water sports.
4.- The Virgin Beach
Located approximately 35 kilometers from English Bay, Virgin Beach is a small stretch of fine white sands and turquoise waters, considered by many to be not only one of the best beaches in Chile but the best of them all. When you look at it, you will be transported to the Caribbean straight away. Its crystalline waters and gentle waves are suitable for swimming, although they can be somewhat cold, compared to other beaches in northern Chile. Their beautiful surrounding landscapes with numerous rocks and cliffs are also remarkable. Especially if you are looking for a nature-based trip.
5.- Cavancha Beach
The center of Iquique is the home of Cavancha Beach. This is the North of the country. It is in our top ten of best beaches in CHille because of both its warm waters and its white sands. Not to talk about its privileged surroundings, sheltering a coast full of life. Here, you will find tropical palm trees, parks, recreational areas and gastronomic places.
For those who practice board sports, such as bodyboarding and surfing, the north of the beach allows you to enjoy larger waves, among which are the well-known sites "El Colegio" "La Punta" and "Las Urracas".
6.- Totoralillo
This is a beautiful spa located 23 Km from La Serena.  A small peninsula divided into two white sand beaches and emerald waters forms the place.
Its clear waters, although a little cold, are suitable for swimming, while its wave quality, makes it one the best beaches in Chile for surfing. Another of its attractions is the wide marine biodiversity that develops in the rocks of its southern area, where you can appreciate starfish, conches and other mollusks.
7.- Anakena Beach
Located on Easter Island, Anakena Beach is a dream beach characterized by its warm waters and white sands. Coconut trees surround it together with the backdrop of the impressive Ahu Nau Nau, a ceremonial platform where seven moáis stand.
The waters are transparent, which allows diving and snorkeling. You will be able to enjoy sightings at great depths even from the surface.
8.- Reñaca
The extensive beach of Reñaca will surprise you with its soft sands and very cold waters. The eighth of our top ten of best beaches in Chile is suitable for swimming and ideal for surfing and other water sports.
This is one of the summer epicenters of the central zone of the country, so expect to find quite a few people when you visit it. You will know why it is so popular when you meet its vibrant and entertaining waterfront, where lively bars, restaurants, and nightclubs spread out.
9.-Puerto Cisnes
Puerto Cisnes is a small town located in the extreme south of Chile, with beautiful white sand beaches washed by the arm of the sea of the Puyuhuapi Channel. This a place which landscape will captivate you. Here you will find majestic mountainous summits and hills covered with forest.
As well as contemplating the beaches, you can take small cruises that will take you to the southern fjords, allowing the sighting of whales and dolphins. Yes, there are more fjords in the world apart from in Norway.
Would you like to visit any of these beaches? Visit our website and we will help you out with your trip!