5 Incredible adventure tourism trips you can't miss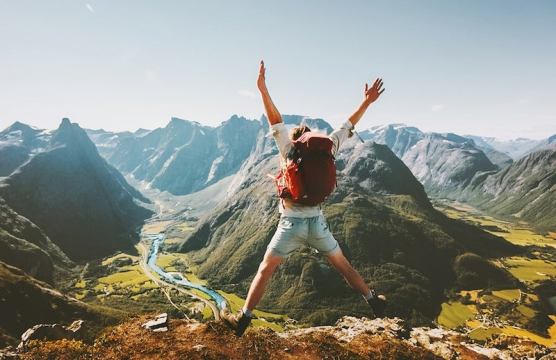 What are adventure tourism trips?
Adventure tourism is about trips that include extreme activities, such as risk sports or adventure excursions. Basically, activities that make the adrenaline rise, stimulate all the senses and make you feel strong emotions.
If you like strong emotions, or what you are looking for in your trip is to raise your adrenaline, do not miss the following list of the best adventure tourism trips. All of them have three things in common culture, nature and adventure.
Extreme sports and adventure tourism trips around the globe
Costa Rica
Costa Rica hides thousands of places to practice the best adventure sports. That's why it opens our list of best adventure tourism trips. Costa Rica offers beautiful beaches, tropical jungle and volcanoes. All these together gives Costa Rica a unique charm. It should be noted that this country has more than 6% of the world's biological diversity. When looking for adventure sports in Costa Rica, you have a very wide range of activities to choose from. Trekking in search of erupting volcanoes, different gymkhanas through its jungle that include exciting zip lines, explore its rivers in canoes or rafting with strong waves. Costa Rica is a paradise of adventure tourism trips.
Tanzania
Your route through the best destinations for adventure tourism trips takes us to a country with an unmatching natural charm: Tanzania. Here you will find the greatest contact with the natural world due to the diversity of flora and countless wildlife that you will have at your fingertips. We will, of course, recommend a safari in Tanzania. It will allow you to photograph each and every one of the wild animals living in their natural habitat. Crossing the plains of Tanzania on a jeep or 4×4, feeling the African contrasts in the best possible way is an adventure itself.
Besides, Tanzania offers you several natural parks to explore, such as the Serengeti Natural Park, which is the largest natural reserve in Tanzania, where you will find lions, giraffes, leopards, etc. Another natural park that you can not miss if you look for adventure tourism trips in Tanzania is the Kilimanjaro natural park. This volcano, 5,895 meters high, is the highest peak in the continent.
Australia
Australia is a place for lovers of adventure tourism trips and risky water sports. It is here where, due to its great swell, each and every one of the maritime activities forms the main attraction of this country. Do not miss out on any of these exciting risk activities: Surfing, Bodyboarding, Kitesurfing and Windsurfing.
It is here, in Australia, where the most dangerous regatta in the world takes place: The Sydney-Hobart. Also called the regatta of the end of the world. Its impressive waves and narrow roads make this regatta the most dangerous adventure in the world, even more than the Paris-Dakar or climbing the hard K2.
Leaving aquatic risk activities aside, in the interior of Australia you will find exciting excursions and hiking trails. You can visit different natural parks, ride through the Red Desert in 4×4 and climb the great Ayers Rock
Brazil
Brazil is a country that could not be left out in this list of adventure tourism trips. On a vacation package to Brazil, climbing is the main sport due to a large number of mountainous and rocky places. There are four perfect places in Brazil to enjoy climbing: Serra dos Orgãos, Pedra do Baú, Tres Picos-Salinas and Serra do Cipó.
It is ideal to combine climbing with rappelling, another risky sport that will produce the adrenaline you were looking for. There is nothing like the descent in ropes after climbing a large rocky mountain. Besides this, Brazil is known for having the largest natural area in the world: the Amazon. It is a perfect place to get lost and make great excursions as well as to explore the Amazon river in a canoe.
New Zealand
A fascinating place, full of challenges, and places to live authentic risk sports. We highlight bungee jumping in the first place because fans say it is one of the most exciting things to do in New Zealand. To fully enjoy this, you must travel to Skippers Canyon, where you will find the bungy pipe. This is one of the most famous places in the world where you can do bungee jumping.
Snowboarding and skiing are not far behind in the list of risky sports to do on your trip to New Zealand since it has four ski resorts with great name worldwide.
Exoticca cares about all kinds of traveler. These are only 5 examples of destinations to enjoy adventure tourism trips. Any of these five countries have much more to offer. You can relax and take a break in their main cities, explore little villages or just spend some time sunbathing. Anything that helps you disconnect from the daily routine. Call us and we will help you plan how to do so.