Best places to visit in Marrakech and its surroundings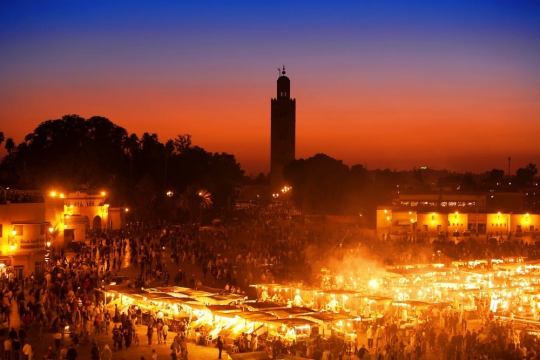 Morocco is one of those unique places in the world. Where many cultures have coexisted for centuries and have left an impressive historical legacy. One proof of this is Marrakech. A city full of culture, rarities that make it unique and an impressive destination for travel lovers. To prove this, we will tell you about the best places to visit in Marrakech.
Get lost discovering the busy Marrakech
Among the main places to visit in Marrakech are some that could be true chaos. We are talking about the Medina, with its souk and the Jemaa el-Fnaa square in the old part of the city.
In the Jemaa el-Fnaa square which is the most visited place in Marrakech, you will lose yourself among a lot of vendors, snake charmers, monkeys, and places to have a delicious orange juice. In the evenings in addition to this beautiful chaos, you will find a lot of food stalls. We recommend you try all kinds of tajines and couscous.
In the area of the Medina, walk its narrow streets, labyrinths where you can find many products that you will want to buy. Here nothing has a fixed price, bargaining is allowed to the maximum. It is one of the most authentic places to visit in Marrakech.
The old town and the tanneries
To complete your visit to the old part of the city, you should be surprised by the great wall of Marrakech. 15 kilometers of the wall that surrounds the old part of the city, 10 meters high and 10 beautiful doors that give access to this part of Marrakech. You cannot leave Morocco without a photo in one of its doors.
Moving away from that place of chaos, we invite you to visit one of the smelliest places to visit in Marrakech. You will have to endure the strong smells, but you will learn a lot from the hard work that people do to obtain clean leather and ready to become bags, purses, and others. Do not forget to visit the tanneries of Marrakech. That's right to be prepared for somewhat unpleasant odors.
Palaces, religious buildings and places of dynasties to visit in Marrakech.
The passage of different cultures through this place have left their mark on a historical and multicultural Marrakech. This city as the country is the gateway to the Arab world, a true historical paradise to know.
The Sadí dynasty, for example, left in Marrakech a palace that today is turned into ruins. Badi Palace, in its best times, was a beautiful and giant palace with more than 300 rooms. Today, although in ruins, it lets us see a beautiful place, rich in architecture that is worth knowing.
Saadian tombs belong to this same dynasty. A small cemetery with several rooms where the remains of the dynasty rest. The most popular of them and the largest, surprises with its architecture. 12 marble columns, which support a cedar wood dome. You cannot miss this place.
Another palace you should know is Bahia Palace, half the size of Badi Palace, with 150 rooms, but with equal architectural beauty. One of the essential places to visit in Marrakech.
About Religions
You cannot visit an Arab country, with great Muslim influence without knowing a mosque. The Koutoubia mosque and its square are a beautiful place that you should know in Marrakech. Unfortunately, access to the mosque is restricted and unless you are Muslim, you will not be able to access it. If you cannot enter, do not worry, appreciating its exterior beauty is also part of the wealth of Marrakech.
Speaking of Muslims then, you cannot stop visiting the Madrasa Ben Youssef. The largest Muslim school in Morocco, built about 500 years ago, has a capacity of almost a thousand students.
Here is also a space for Jews. The Jewish district of Mellah, although it is a place little visited by tourists is a place that you should know. After the expulsion of Hebrew peoples from Portugal and Spain, they settled here in the sixteenth century. Today there is a synagogue and a Jewish cemetery in this place.
Other places to visit in Marrakech
Marrakech has much more to see, know and enjoy. Some of the places that we could recommend you to visit, or things to do in Marrakech are:
Visit its gardens. The gardens of Majorelle, Palmeral, and Menara are good options. In the last one, you will find a beautiful pond surrounded by thousands of olive trees that are irrigated thanks to this one.
The riads. These small Arab palaces have a courtyard inside. Many of them have been converted into hotels, so it would be a good option to stay in Marrakech. If you do not manage to stay in a riad, we recommend you go to dinner in one of them.
Bathing in a hamman. Very characteristic of Arab culture, there are hamman for tourists and for the general public. A unique experience that you must live.
Ouzoud waterfalls. In the surroundings of Marrakech, you will find these beautiful waterfalls. You can get tours to this place.
There are many places to visit in Marrakech. Are you ready to discover them?