Things to do in Iceland in winter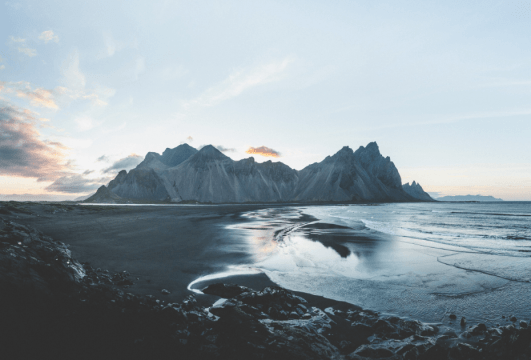 Scraping the edges of the Arctic Circle and with ice in its name, the winter months on this island can be harsh to the tune of – 25ºc. However, our list of the best things to do in Iceland in winter shows that the freezing temperatures are more than worth braving. The land of fire and ice is awash with sky blue lagoons, steaming geysers and roaring volcanoes all waiting to be explored.
1. The Northern Lights
Witnessing these glowing curtains of jade and violet unfurling in the deep indigo skies sits high on many a bucket list. These pulsating ribbons of glimmering lights occur when charged particles from the sun collide with atoms in the earth's atmosphere, causing electrons in the atoms to move to a higher-energy state. When the electrons drop back to a lower energy state this Nordic light show fills the sky. In the capital city of Reykjavík, the night lasts for twenty hours in winter, but in the northernmost regions, it is closer to twenty-two. Head to the Westfjords or other parts of North Iceland to improve your chances of seeing the aurora borealis.
2. Ice Caves
Enter these glassy lairs to literally walk into the heart of a glacier. Iceland's vast landscape is dotted with these real-life winter wonderlands inside Vatnajökull, the largest glacier in the whole of Europe. Sprawling out from the centre this glacier covers over 8% of the land in Iceland. Unsurprisingly, the meltwater from a glacier this size is truly astounding. Due to the constant movement of this glacier more and more ice caves appear every year.
The Crystal Ice Cave is a major celebrity of Iceland and undoubtedly one of the best things to do in Iceland. Access to its deep turquoise coloured corridors can be found in Breiðamerkurjökull.

3. Hot Springs
Rid yourself of that Arctic chill than by plunging into a geothermal spa? Quintessentially Icelandic, a dip in these steamy pools is one of the many surreal experiences scattered across this volcanic island.
The Blue Lagoon has fully embraced the tourism industry providing a fully stocked bar on the water, a gourmet restaurant, and a range of spa treatments: massages, silica mud treatments and steam caves. For those craving a more rustic experience, try the horse breeding farm of Leirubakki in Hekla. Relax in their Viking pool while drinking in the breathtaking views of the Icelandic Highlands. Travellers on a quest to stretch their legs should traverse the Reykjadalur Hot Spring Hike. This is a literal river of hot springs zigzagging through dramatic mountains blanketed in snow. 
4. Jokulsarlon & Diamond Beach
Black as night sands strewn with glittering ice sculptures is breathtaking natural beauty a la Iceland. Because of the constant movement of the glacier sitting close by, opalescent giants snap off and are left to float in Jokulsarlon (meaning glacial river lagoon in Icelandic). As a result, many smaller sky blue shards wash up onshore to create a mind-boggling juxtaposition of colours and shapes.

5. Whale Watching Tours
Iceland boasts an extremely high success rate of witnessing these aquatic giants. For this reason, it has cemented its place as one of the premier destinations for whale watching in the world. In fact, you can even spot humpbacks from the shore. Nevertheless, chances are far higher if you join one of the many whale tours that specialise in these excursions.
The Herring and Capelin-rich waters don't only attract humpback whales; orcas, white-beaked dolphins and harbour porpoises all frequent these chilly shores.
Our list of things to do in Iceland during winter is just the tip of the iceberg (sorry). Take a peek at our new website to get you packing those warm layers and heading for the land of fire and ice.