Tales of mysterious places you can really visit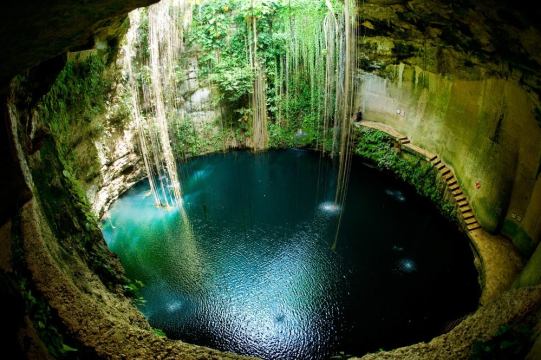 The world is too big to know the origins of each and every corners. Today, there are many travel destinations which still hide unknown, unsettling secrets. If you're fascinated by the tales of mysterious places, don't miss the ones we've selected to inspire you on your next incredible journey.
Six tales of must-see mysterious destinations
Aokigahara Suicide Forest in Japan
The story goes that this forest was inhabited by demons in Japanese mythology. For that reason, it became a place chosen by those who had decided to end their lives. Even today, it is estimated that around a hundred people go there every year, despite posters trying to persuade people to change their minds. Cinema has also nurtured the fame of the first of our tales of mysterious places.
Tragedy aside, this forest in Japan is part of a natural park next to Mount Fuji, very close to Tokyo. With hundred-year-old trees, underground caves and lava formations, it also boasts breathtaking views.
The Sedlec Ossuary in the Czech Republic
Very close to Prague is a small chapel that has become another of the world's tales of mysterious sites. Located next to the Cemetery Church of All Saints, it has a somewhat peculiar decor, as it was carved out of more than 40,000 human skeletons.
Wood carver František Rint was commissioned to build a chandelier made of bones, which currently hangs in the centre of the nave, surrounded by skulls as decoration. Quite the spectacle, it's as if it was taken right out of a horror film.
The Zone of Silence in Durango, Mexico
In the centre of the natural region of Bolsón de Mapimí, between the states of Durango, Chihuahua and Coahuila, is home to another well-known tale of mysterious places. Although it is a desert area today, it used to be a seabed. All kinds of extraordinary animals and plants can be found there.
However, what has fed the tale of this location in Mexico is its magnetic cone, as well as the appearance of meteorites. By ionising the atmosphere, the cone is able to stop clocks and compasses and cut off radio communication. A perfect setting for the most creative minds.
The cenotes of Yucatan, Mexico
There are many tales of mysterious places in Mexican territory. In addition to the above, the cenotes of Yucatan also have a story starring gods and sacrifices in their honour.
Cenotes are deposits of water that are filled by filtrations, as well as by the currents of underground rivers. In addition to a natural formation, it seems that the Mayan civilisation considered them the entrance to the underworld. As an offering to the gods, they threw young women into them. Even today, the remains of utensils and ceramics can still be found.
Lake Truk, Micronesia
This small place in the Pacific Ocean offers tourism a paradisiacal appearance and an even more perfect climate. However, in its depths hides another of the world's best-known tales of mysterious sites. In its lagoon lies a sunken Japanese naval fleet, including tanks, fighter planes, military vehicles and, of course, the remains of many soldiers.
A few kilometres away from the island of Guinea, in Oceania, Lake Truk has become an attraction for those who wish to delve into its spectacular history. Although diving is often banned due to the presence of unexploded bombs, it still piques the curiosity of many people.
Stonehenge in Wiltshire, England
This megalithic monument is another of the world's most famous tales of mysterious places. 98 metres in diameter, it was built with giant trilithons of sandstone. The unsettling fact is that this type of stone is not typical of the area, and the existence of human remains feeds the belief that it was a graveyard.
Recent studies have revealed the existence of a nearby prehistoric settlement that may have been in charge of the construction. However, the possibility that the current position was a hoax to attract visitors has also been considered. In any case, it still remains a magical place.
These are just some of the tales of mysterious places that we can find in the world; practically every region of the planet hides some hidden treasure. Plan your next trip and reveal secrets waiting to be discovered.