Discover the most spectacular street markets on the planet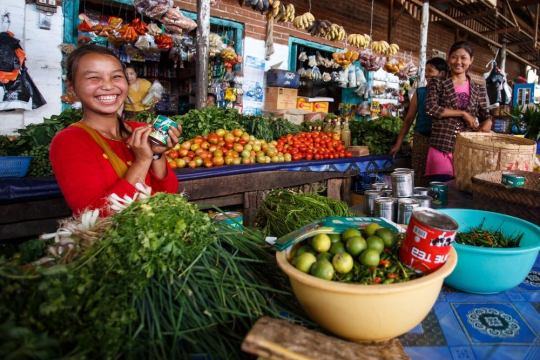 If you've had the opportunity to travel to modernised, developed countries, you will know that the same commercial chains show up in almost every corner of the world. However, there is one thing that many cities try to preserve, since there are few things as charming as street markets with fresh food and characteristic local produce. If you like finding hidden treasures, here are some of the most spectacular street markets you'll come across.
The most spectacular street markets
Tsukiji Fish Market in Tokyo, Japan
As previously mentioned, modernisation has ended up conquering every corner of the planet. An example of this is the fish market in Tsukiji. Until October 2018 it was one of the most spectacular street markets you could visit. Since, it has moved to Toyosu, but only the indoor market. This is a much more organised, secure space that can accommodate visiting tourists without causing inconvenience to local workers.
It became famous for its tuna auctions, although hundreds of different types of fish could be found. Due to its limited capacity, participation meant signing up from 2 a.m. onwards. Fortunately, the foreign market still remains in its original location. Its future is uncertain, therefore it's a must-see if you're travelling to Japan.
Damnoen Saduak floating market in Bangkok, Thailand
For centuries, the canals that cross both Bangkok and its surroundings have permitted the development of one of the most spectacular street markets in the world. Here, far from the traditional street stalls, you'll find fruit and vegetables, handicrafts and other local products displayed in boats. Huddled together, they surround the temple of Damnoen Saduak, from which they take their name. An unmissable, colourful spectacle.
La Pescheria of Venice, Italy
Also featuring water, here you can find another of the most spectacular street markets in the world. The Pescheria is located in the market of Rialto, and has been in operation for centuries. The history of this beautiful city cannot be told without it. At dawn, the goods are unloaded from the boats at the Grand Canal pier. From early morning until noon, you can buy sardines, squid, crabs and various types of seafood.
The Addis Merkato in Addis Ababa, Ethiopia
The Ethiopian capital is home to Africa's largest open-air market. This is one of the most spectacular street markets, not for its colourfulness and visual beauty, but rather for its 7,000-plus seats that occupy the length and width of the neighbourhood, in which you can witness masharrasha,or bargaining. A practice, or rather an art, very typical of the area.
The Chichicastenango Market, Guatemala
If you visit Guatemala, you cannot miss out on a visit to the Chichicastenango market on Thursdays and Sundays. Its display of colour is both thanks to the products on sale and the clothes worn by local women. Most abundant are food and handicrafts, but shamans can also be found performing their rituals every morning before the watchful eyes of tourists.
The Spice Bazaar in Istanbul, Turkey
It is impossible to talk about the world's most spectacular street markets and not include a spice bazaar. Located very close to the Great Bazaar of Istanbul, in Eminönü, this is one of the oldest that can be found in the city. Unlike others, its products are more specific, and it focuses on spices, nuts and traditional Turkish desserts such as baklava. Flowers are sold outside, next to the mosque. It is an ideal place full of colours and aromas, perfect for stimulating the senses.
Östermalms market in Stockholm, Sweden
The Östermalms Saluhall is one of the most spectacular street markets, but also one of the most glamorous. This is a high-class neighbourhood, where in addition to the market, luxury brand stores are within close reach. Built in 1888, it still retains part of its original decoration: a combination of iron structures, lacquered wood and red bricks.
Market of Sarlat-la-Canéda, in France
The market in Sarlat-la-Canéda is one of the most spectacular street markets you can visit. It consists of both an indoor and outdoor area, as well as an organic night market. Here, at various different times, you can find typical regional produce. It is located in the main square and dates back to the Middle Ages.
If you enjoy getting to know the more traditional side of the places you visit on your organised trips, you cannot miss the most spectacular street markets we have mentioned. Dare to discover the world!