How to travel without leaving your home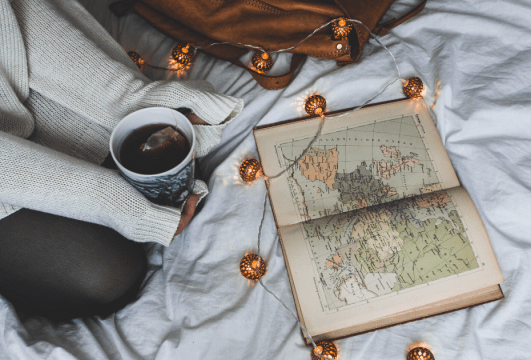 This month the world is on pause along with your travel plans. Yet your thirst for new cultures can still be quenched (in some ways quite literally). Yes, we're indoors and will be for some time so, as a result, we've come up with a plan to feed that wanderlust. Follow our steps on how to travel without leaving your home to immerse yourself in foreign cultures while keeping yourself and others safe.
Every week we are going to publish some step by step guides on how to dip your toes into a different culture. Today, we begin with an insight into the vibrant culture of Peru. #travelathomewithexoticca
Travel to Peru without leaving your home
Step 1. Start with a song
Start your day with some Peruvian tunes. This panpipe classic of El Condor Pasa was brought to the world stage by Simon and Garfunkel. However, over 50 years before the American duo released their version The Peruvian songwriter Daniel Robles recorded and copyrighted this folk classic while on his travels in the US. Nowadays, this song has become one of the many ballads of Andean culture in South America.
Step 2. Grab a book
Take full advantage of confinement by delving into this Peruvian page-turner. Death in the Andes by Mario Vargas Llosa, is a gripping novel set during the era of the Shining Path (the communist party of Peru). Llosa's engaging prose expertly peppers this enthralling story with insights into unique Andean customs, the country's tragic history and stunning landscapes.
Step 3. Get cooking
Try your hand at Peru's national dish of ceviche. This moreish and delightfully punchy seafood recipe is prepared with fresh fish, limes, onions, spicy peppers, and fresh coriander. And best of all, there is no cooking involved; the acidity of the lime juice in fact "cooks" the raw ingredients. Therefore, think of this dish as more of a salad than something to be slaved over. Not only is it delicious, but it's also extremely healthy and packed full of vitamin C.
Ingredients (serves 4)
500g of fresh, firm white fish (Dover sole, hake or sea bream are great options)
1 red onion thinly sliced
8 limes
1 chilli pepper cut in half
2 sprigs of fresh coriander
1/2 tbsp of salt
Lettuce leaves
Fresh boiled corn
Sweet potato: thinly fried, baked or boiled
Diced or sliced hot chilli peppers – optional
Slices of lime
Instructions
Cut the fish into small cubes, place in a glass bowl and cover with cold water and 1 tablespoon of salt, cover and refrigerate while you prepare the onions and juice the limes.
Rub the thin onion slices with 1/2 tablespoon of salt with your hands and then rinse in cold water.
Rinse the fish to remove the salt
Place the cubes of fish, half of the sliced onions and hot peppers in a glass bowl. After pour the lime juice over the ingredients and sprinkle with a little bit of salt. Cover and refrigerate for about 5-15 minutes.
Remove the cilantro sprigs and the hot peppers from the mix. Taste add additional salt if needed. Use a spoon to place the ceviche in each serving bowl, add additional sliced onions to each bowl, sprinkle with finely chopped coriander, and diced or sliced chillies.
Serve immediately with your choice of sides and garnishes to savour the Latin flair of Peru.
Step 4. Make a pisco sour

Although still at the centre of a dispute of origin between Peru and Chile, many agree that this cocktail hails from the streets of Lima. Strong, zesty and topped with a raw egg yolk, this beverage's flavour-filled kick is not for the faint of heart. In spite of its high alcohol content, this Peruvian fave slips down extremely well.
How to make a Pisco Sour
Ingredients
50 ml of pisco
25 ml of mixing syrup or agave
25 ml of lime juice
1 egg white
2 to 3 drops of angostura bitters
Instructions
Add all of the ingredients into a shaker with ice and, you've guessed it, shake vigorously.
Strain into a chilled glass or over fresh ice.
Garnish with 3 drops of the bitters and voila, you're on the streets of Lima.
Let us know how your trip went by commenting on our Facebook page using the hashtag #travelathomewithexoticca