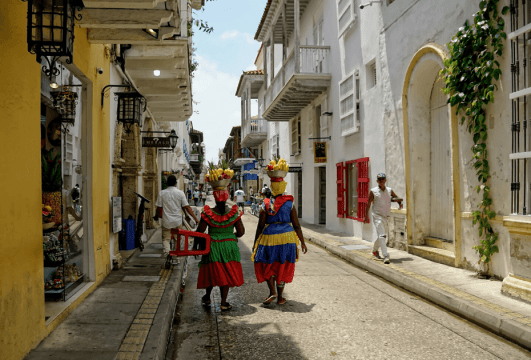 Exotic destinations are not only lands of cheap booze and magnificent beaches; they also harbour unique customs and cultural sensitivities. Recently, the mayoress of Barcelona, Ada Colau, threatened to shut out tourists from the city, citing anti-social behaviour. OK, Stag dos are rarely well received, but responsible tourism goes a little further than not wearing a mankini.
Put your mind at ease when exploring charming squares or tropical beaches, by practising responsible tourism. Venturing to distant lands is a investment in your soul after all.
Eat local
The advantages of this tip are numerous: cultural insights, a boost for the local economy, and the chance to rub shoulders with residents. Tucking into a steaming bowl of Phở on the bustling streets of Vietnam, or sampling Tuscan olives in an osteria is what travelling is all about. Besides, it's a laid-back introduction to local customs. Definitely more relaxed than fleeing for your life from a stampede of bulls.
Share your experiences
With a wealth of options at your fingertips this has never been easier. Trip Advisor, Trustpilot and various social media platforms, can all spread the word of that fantastic safari, or that delightfully strong margarita. In spite of bringing in wealth it also has potential downfalls. The increase of Geotagging has led to unexpected swarms of tourists descending on unprepared areas. So avoid sharing the location of undiscovered natural beauty, but do post that Instagram snap of a food stall. Local business owners rarely complain about too much custom.
Learn a bit of the local language
It may seem impossible for native English speakers; however, with a little effort, you'd be surprised how much you can pick up. Now, speaking with the accent and reeling off local slang isn't essential – or viable. Saying this, learning a few simple phrases goes a long way in showing respect for other cultures. Research has shown that acquiring another language can even prevent the onset of Alzheimer's. So give the waiter and your brain some help on your next trip abroad. ¡Salud!
We recommend downloading a free language learning app or a cheap phrase book. The language learning app, Duolingo is interactive, light hearted and, best of all, completely free.
Say no to plastic
This may be something you're already doing, so why leave your good habits at home? Many developing countries are coming to terms with the effects of plastic use, and struggle with using an alternative. For instance, Mexico City is the biggest user of plastic bottled water in the world.

With a little prep, carrying on with your planet-friendly ways is a piece of cake. Alongside the flip flops pack a few bottles and containers. Products such as the Lifestraw Bottle, also ensure you don't get sick from local water sources. The filter on these bottles removes bacteria, and transforms the dangerous into drinkable. Not a bad feature if you fancy getting away from it all in the true sense of the word.
Learn about local customs before travelling
This point is extremely important for chatting with locals. Find out about recent events before diving into a debate on politics. Saying this, don't overdo it with the questions. I mean, imagine a tourist asking for your opinion on a certain EU referendum.

There's no need to meticulosuly study the last 100 years of its internal affairs. However, we recommend a quick scan of dos and don'ts . Take the eye contact etiquette in Japan as an example. Holding someone's gaze is considered rude – it can even be taken as a sign of aggression. Whereas in Russia a simple smile to a stranger may suggest you're mocking them.
Bargain right
Bargaining in a bustling market is an essential part of travelling. By all means, get involved, but do keep the economic situation of the destination your visiting in mind. For instance, the average monthly salary in India is £230. A cracking deal for you may leave someone out of pocket. Set your prices a little higher to give the local economy a boost.

Feel prepared? Try your hand at some responsible tourism on one of our exclusive getaways.