The 15 best beaches in Costa Rica | Welcome to paradise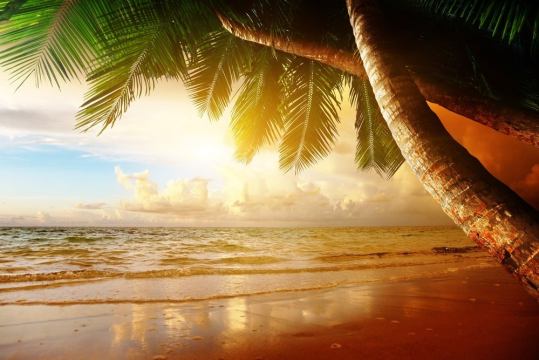 Costa Rica is a paradise bathed by two oceans. In a few hours by road, you can go from enjoying a beautiful beach in the Pacific, to a tropical wonder in the Caribbean. The natural beauty of the Central American country has made it one of the tourist gems of the continent. With so much to take advantage of, it does not hurt for us to show you the 15 best beaches in Costa Rica so you can have your trip to paradise.
The richness of this paradise in the Central American tropics makes more and more people fall in love with it and choose it as their next destination. In Costa Rica you have everything, mountains, jungle, invaluable nature, but, without a doubt, because along its coasts there are more than 300 beaches, it is inevitable to fall in love with the country because of its enviable beaches.
The 15 best beaches in Costa Rica
Santa Teresa Beach
A beach with a quite natural appearance that retains its charm despite the increase in tourism. That makes it one of the best beaches in Costa Rica. With waves of a large size, it is an ideal beach for surfing. Enjoy the jungles that surround it, so that you have a trip of tropical rainforests and beach escape.
Manuel Antonio National Park
This park is one of the most popular destinations in Costa Rica. The crystal-clear waters attract tourists from all over the world, so if you are looking for a quieter place it may not be the right place for you.
Puerto Viejo
Costa Rica has it all and for all tastes, that is why, if you are looking for a party atmosphere, the place indicated is the Puerto Viejo beach. With many cabins on the coast, this becomes one of the best beaches in Costa Rica to visit.
Samara Beach
If your trip is a family plan, Samara beach is one of the safest places to travel with your children. Find the tranquility to enjoy paradise on Samara beach.
Conchal Beach
Each beach has its attraction on this list. On this occasion, you can enjoy an ideal place to practice snorkeling. Enjoy the marine fauna in its crystalline waters so that you fall in love even more with the wonders of the ocean.
Tamarindo Beach
With a multicultural population, this is a suitable place for surfing, as well as other water sports. With a good hotel infrastructure around you, you will not have problems to stay in paradise.
Avellana Beach
White sands, crystal clear waters, fauna and flora that keep it natural, in addition to the adequate infrastructure so that you can enjoy your vacations in a trip without equal.
Hermosa beach
Its name has said everything, located in the Guanacaste region, this is one of the best beaches in Costa Rica. This place is part of our list of What to do in Costa Rica: from beaches to volcanoes.
Nosara Beach
Enjoy this beauty with 6 kilometers of white sand, winds that generate waves ideal for surfing and also is very close to one of the nesting places of sea turtles.
Montezuma Beach
Very close to the beach of Santa Teresa, you will find one of the best beaches in Costa Rica. This is the beach of Montezuma, a quiet place to relax and enjoy a spectacular family vacation.
Flamingo Beach
If you want a luxury trip, you can find yourself on one of the most exclusive beaches in the country. Surrounded by condominiums and an excellent hotel infrastructure that will put at your disposal all the comfort you can get in a tropical paradise like this.
Isla Tortuga
If you have an adventurous spirit and you like places that maintain their natural charm, Isla Tortuga is the place for you. This beach remains natural and the only way to get there is by boat.
Punta Uva Beach
With a natural wealth of unique flora and fauna, Punta Uva makes its way as one of the tourist destinations with the greatest potential in Costa Rica. Let yourself be carried away by your adventurous spirit and fall in love with the natural charm that the beach of Punta Uva can offer you.
Biesanz
Do you want to know the true charm of the tropics? This is a beach like no other. Biesanz is surrounded by green nature, vegetation that makes the place an exotic place to visit. With calm waters and a natural environment like no other, this is a special beach for the family. Enjoy the tranquility and live a vacation without equal.
Naranjo Beach
We are sure that you will never find a beach of sand as white as this one. A place to escape civilization and connect with nature. There are no hotels nearby, so this could be the right place to do camping in paradise. Do you dare to know Costa Rica?