When is the best time to visit Australia
Deciding on the best time to travel to Australia is not easy as this country, which is a continent in itself, has many different climates. The size of Australia has a significantly determines the different climates, depending on the region that you want to visit.
When to travel to Australia
Generally speaking, despite the large climatic variations, we could say that Australia has a desert climate throughout almost half of its territory. To the north, however, the climate is tropical, and to the southeast and southwest the climate is temperate.
The country's central region is arid and 44% of it is occupied by desert, with daytime temperatures between 18oC in winter and up to 40oC in summer. Therefore, the best time to visit this area is between June and August, thereby avoiding the Australian summer.
Whereas the temperate regions that occupy both the Australian southeast and southwest have rather warm summers and very warm winters. The average annual temperature is around 20ºC, so we could say that you can visit during practically any time of the year.
But let's see when you should travel to Australia to visit specific places.
The best time to travel to southeast Australia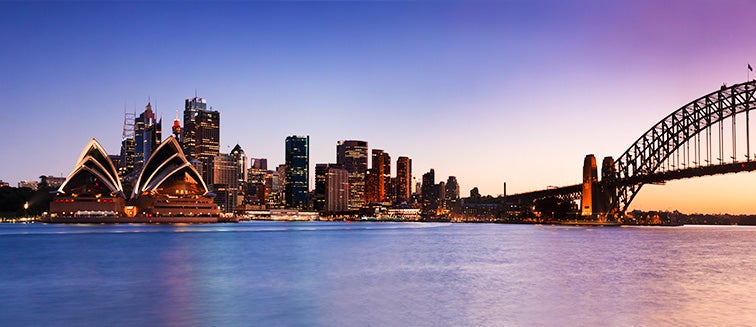 If the purpose of your trip is to visit Sydney, Canberra or New South Wales, it is best to choose the months from November to April. During these months you will encounter an average temperature of 21ºC, which is ideal for strolling around the city.
The climate in this region is very pleasant practically throughout the year, with an average temperature between 15ºC and 29ºC. But if you want to be sure of the perfect climate, then choose the months we have indicated.
When to travel to southern Australia
However, to visit the Nullarbor Plain or Kangaroo Island and Adelaide, you should keep in mind that these two areas have different climates. Despite being in the same region, Nullarbor is much drier and desert-like, for which reason it would be best to visit from March to August.
Adelaide and Kangaroo Island, on the other hand, have a Mediterranean climate, with an average temperature of 19ºC in winter and 27ºC in summer. To visit these Australian landscapes, it is best to go between October and April. Further to the east, the temperate climate of Melbourne has the best temperatures between November and March.
The best time to visit Tasmania
To visit Tasmania, which is also within the southern region of Australia, the best time is between October and March when the temperature is more pleasant and the vegetation is exuberant.
However, as Tasmania is an island, it has its own climatic characteristics which differ from the continent to which it belongs. Generally speaking, the island is divided into two large climatic zones, the east is flatter and the west is more mountainous. In turn, the winds from the Pacific Ocean mean that it has mild summers, with an average of 21ºC. In autumn and winter, the thermometer does not drop below 12ºC, and rainfall is more abundant in the mountainous region.
The best time to travel to western Australia
You can visit Queensland almost all year round, as temperatures are very pleasant and the sun shines every day in this Australian region. The climate of this region is tropical and the average temperature hovers around 25ºC in the winter and 30ºC in summer.
Summer is from November to March in this Australian State, and it coincides with the rainy season, so it is best to avoid these months on your visit. Therefore, it is best to travel to this zone between June and October.
Best time to travel to northern Australia
The Australian north, with its paradise locations such as Darwin or the Kadaku National Park, has a tropical climate. Between October and March, temperatures can reach 40ºC, so it would not be a good idea to visit this zone during these times.
It is best to travel during the autumn and winter, that is, between April and September, when the temperature is a lot more pleasant. That said, the rainy season in this region is from October to March, which leaves you two ideal months for travelling to this zone: April and September.
Best time to visit central Australia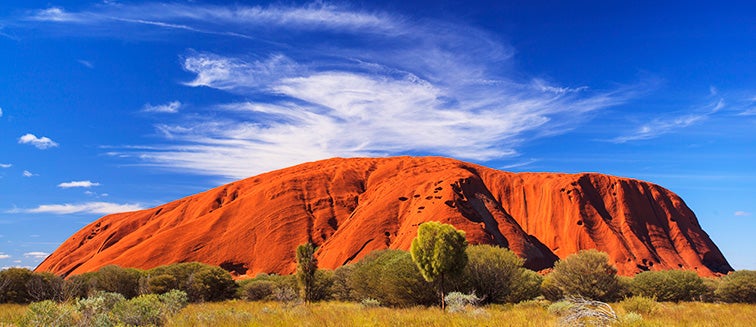 If you want to include Alice Springs or Ayers Rock in your trip, it would be best to travel from June to August when temperatures do not rise above 21ºC as, during the Australian summer (from December to February), daytime temperatures can be around 40ºC and night-time temperatures can fall right down to 4ºC. Also, from June to August is the low tourist season, with all the advantages that this brings.
You now know the best time to travel to Australia, which is a continent that we have all dreamed of visiting at some point.