The coldest cities in the world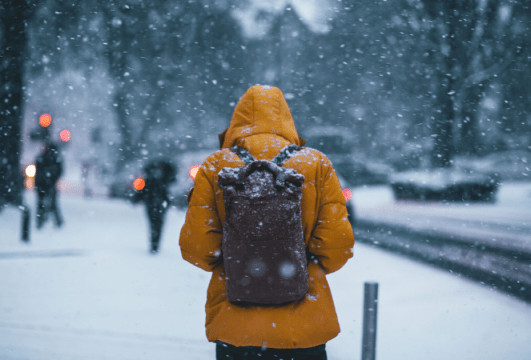 There are two exceptional remedies for the winter blues: escaping to warmer climes and looking at how bad others have got it. Dealing with the biting winds of February may seem tough – but imagine braving the commute in one of these coldest cities in the world. 
Harbin, Heilongjiang, China
Tucked away high up in the northeast of China, Harbin is home to a whopping 10 million people. Due to its average winter temperatures of minus 22°C, this capital of Heilongjiang province is known as the "Ice City".
This Chinese city makes the most of its title as one of the coldest cities in the world by annually staging the Harbin International Ice and Snow Sculpture Festival. Every year millions of visitors head to this literal winter wonderland of huge ice sculptures, skiing, and even outdoor swimming in the Songhua River.
Dudinka, Krasnoyarsk Krai, Russia
Sitting just above the Arctic Circle, Dudinka is a bone-chilling city on the Yenisei River. Although temperatures here often drop below minus 33°C (celsius), more than 20,000 people still call it home.
Back in 2015, the Siberian town was completely encased in ice from a burst pipe. Consequently, cars were frozen solid and power lines were cut, leaving thousands without heating, water, and electricity. This may have been a one-off, but the average low temperatures here are truly mind-blowing. In fact, locals claim that if you spit outside in winter, it will freeze before hitting the ground.
Winnipeg, Manitoba, Canada
This city of 715,000 people is one of the coldest major cities in North America. Residing in the Canadian Prairies, Winnipeg has to withstand average temperatures of minus 20°C in the winter months. Yet, it often dips lower; for example, on 18 February 1966, temperatures plummeted to minus 45°C.
Because of Winnipeg's windy climate, weather forecasters often issue warnings not to venture outside. When these conditions are in full swing, even a quick trip to the shops can be life-threatening.
Yakutsk, Sakha Republic, Russia
The capital city of the Sakha Republic of Russia, Yakutsk experiences some of the harshest winter conditions on Earth. In spite of this, around 282,400 locals carry out their daily lives in this city located near the Arctic Circle.
The Russian city's winter is usually at its most brutal during January; the thermometer bounces between minus 38°C to 42°C. If that wasn't bad enough, winter starts in early October.
Yellowknife, Northwest Territories, Canada
Braving temperatures of minus 34°C is just an average winter's day in Yellowknife. Founded in 1934, this hub of 20,000 people is the only city in the Northwest Territories of Canada, and, by default, its capital.
Sitting next to the Great Slave Lake, the chilly winter temperatures of Yellowknife are due to its close proximity to the Arctic Circle. Therefore, its climate is classed as subarctic. The lowest temperature ever recorded here was minus 51°C on 1 February 1947.
However, it's not all doom and gloom; the long clear nights often glow with the Northern Lights. These neon ribbons of light usually make an appearance anytime between November and April.
Are you a fan of the crisp winter? Or do you prefer to take refuge on a tropical coastline? Either way Exoticca has got you covered.