The most beautiful natural swimming pools of the world that you must visit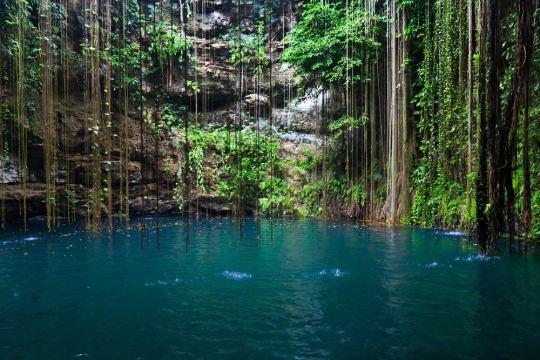 Nature offers us unique spaces to not stop enjoying these natural swimming pools of the world. These pools are bodies of water formed naturally, in lakes, cenotes, beaches, waterfalls and are a beauty to enjoy. Curious places that seem taken from fairy tales and where for sure you will be happy to take a dip.
These natural swimming pools of the world are found in all corners of the planet. That is why here we have made a list so that you can find them in your next relaxation and leisure trips.
Natural swimming pools of the world list
Natural pools of Europe
Greece has been a lucky country in the tourism field. In addition to its rich history as the cradle of western civilization, it has an important abundance of natural resources that attract travelers from all over the world. Among those natural riches, we find two beautiful natural swimming pools that can catch your attention for your trip to Greece. This is Giola, another reason to visit the Greek islands. This is a paradise in the middle of the island of Thassos. And also, Sarakiniko, a beautiful beach on the island of Milo.
We continue in Eastern Europe to visit two more natural pools on our list, these are Pamukkale in Turkey and Krka in Croatia. If there are natural wonders that can be called a paradise in the water, it is these two natural swimming pools of the world.
Blue Lagoon takes us to what has become one of the countries trending for tourism, Iceland. It is one of the most visited places in the country and one of the most recognized natural swimming pools in the world. If you are a lover of natural travel, this natural pool should be on your list of places to know.
Italy and Portugal also have a place on this list with a natural pool each of which is worth knowing. In Portugal, you can visit Porto Moniz on the island of Madeira. While in Italy you cannot miss the Terme di Saturnia.
Natural pools of Spain
Spain has great potential in this field and the Iberian country could better exploit these natural wonders. There are many natural pools that you should visit in Spain, in places like Extremadura, Canarias or Tenerife. We invite you to know the pools of Garganta de Los Infiernos, Playa la Maceta or San Juan Rambla.
Natural pools of Asia
In the near East and in Southeast Asia, we can also find these natural wonders. Natural swimming pools of the world that become ideal places to relax. Band e-Amir in Afghanistan, a beautiful series of blue lakes separated by natural dams.
In the beautiful country of Laos, where nature breathes and gives life, you can find the Kuang Si waterfalls. A waterfall that forms a natural pool that makes your trip to Southeast Asia even more spectacular.
Natural pools of America
The new continent has always surprised us with the natural wonders that it can offer us in its entirety. The United States, due to its large size, owns many of these natural wonders. Havasu Falls in Arizona and Hamilton Pool in Texas are just one example of the beauty that can be found in the country of freedom.
In America occurs one of the most beautiful natural phenomena, the cenotes. These caves that form natural pools of fresh water, extremely crystalline, connected with underground rivers are some of the most beautiful natural pools in the world to enjoy. In this case, we recommend Cenote Ik Kil in Yucatan, Mexico. Know a little bit more about Mayan ruins in Mexico.
The south of the continent is also present with the Cacimba do Padre Beach in Brazil. And to top off with a flourish the Great Blue Hole of Belize is a must on our list.
Natural pools of Oceania
The vast expanse of Australia allows you to also have all kinds of natural wonders. The Kakadu National Park is another of the natural swimming pools of the world that is worth knowing. But not only in Australia can you find a delicious place to take a dip. In Samoa, you can enjoy To Sua and Fatumea Pool.
Natural pools of Africa
Of course, we had to take a tour of all the continents to find the best natural pools in the world. Doing a touristic circuit by Victoria Falls, Chobe, and Okavango, you could know Devil's Pool. A magical place to enjoy the falls between Zambia and Zimbabwe.
Do you have any other natural pool that you want to add to this list? Which ones do you already know? Enjoy the best of nature knowing these spectacular places. You already have a new list of pools where to bathe and relax.