What are the advantages of Vietnam holidays in winter?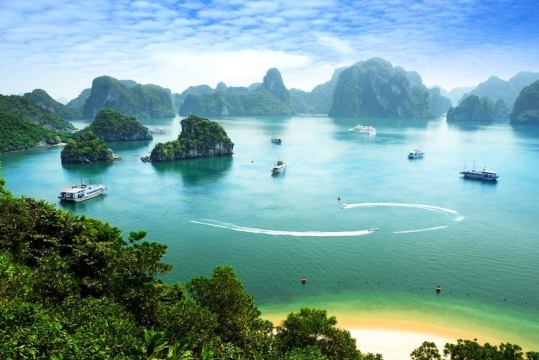 Vietnam always surprises travelers because there are not two equal regions in the country. Each Vietnamese city has its own attractions, traditions and lifestyles. And the most important thing is that they are all impressive in their own way. Compared to the north, southern Vietnam is more humid and hot. If this is the part of the country you want to visit during the coldest months of the year, that's perfect. It is the ideal area to organize your Vietnam holidays in Winter.
Vietnam holidays in winter: Ho Chi Minh
The fast-paced city of Ho Chi Minh, formerly known as Saigon, is like a colorful dream that never ends. It has left behind the image of a city hit by war and has become a prosperous metropolis. It even rivals Singapore, Bangkok and other traditionally prominent places in Southeast Asia. In this city, visitors can find haute cuisine restaurants, modern hotels, dazzling bars and clubs and shops and shopping centers where imported luxury products are sold. In addition, you will find French colonial buildings, mystical pagodas and temples, and blocks of Soviet-style houses.
The best thing about preparing your Vietnam holidays in Winter and including Ho Chi Minh in the itinerary is that the weather will be favorable. You will not be cold. And you will not either have to deal with the high temperatures of the summer months. In addition, the rainy season will be over, which means that extemporaneous showers will not surprise you. If you like long walks, the months from December to February are the best for you to make this trip.
What to see in the city
These are some outstanding historical points of the city that you can visit.
General Post Office
War Museum
Notre Dame Cathedral.
Ho Chi Minh is also a paradise for compulsive buyers. Here you will find luxury products, unique crafts, and even high-quality second-hand products. You will not believe the number of markets and stores that populate the place. Food lovers will also enjoy Saigon, known as the land of street food and the famous 'banh mi'. For nocturnal animals, sooner or later Bui Vien Street will become one of your favorite meeting places.
Again, planning your Vietnam holidays in Winter will allow you to enjoy the nights as much as the days. Consider also that winter is not the cup of tea of many travelers. Meaning you will find the city much less crowded than during spring and summer.
One day trips from Ho Chi Minh that you can not miss if you plan Vietnam holidays in Winter
If you want to get away for a day, you have many options. Let us recommend three. The most popular excursion outside the city are the Cu Chi tunnels, which served as a hideout for 20 years: first for the Viet Minh agents and then for the Viet Cong soldiers. Another trip you can take is to the mysterious and interesting Santa Cao Dai headquarters in Tay Ninh, home of the most charismatic indigenous religion in the country.
You can enjoy another day out of Saigon (or half a day) if you visit the water parks located on the outskirts of the city; It is a perfect cure against the dust and heat of Ho Chi Minh. Consider this: while enjoying your Vietnam holidays in winter, you will feel that you have just gone back in time to last summer. Just seize the day and go to the beaches near Vung Tau. You will only need a short drive to enjoy the beach and the sand dunes of Mui Ne.
Mekong Delta: a must during your Vietnam holidays in winter
Known as the 'rice bowl' of Vietnam, the Mekong delta oozes a kind of magic that will attract everyone who visits this immense land. The region covers a vast area of infinite rice fields that produce about half of Vietnam's agricultural production. Rice, however, is not the only thing that grows here: there are also mango, papaya, dragon fruit, coconut and pineapple fields. You will find them in abundance in floating markets such as Cai Rang or Cai Be, where sellers serve you from their boats with fresh products and other merchandise. In short, if you look for the typical picture of Vietnam, you can take it in the Mekong Delta.
A visit to the Mekong Delta is extremely interesting given its incredible diversity. You will see children riding on the backs of buffalos, peasants crouched in an emerald sea of rice fields, flocks of storks flying in circles at dusk, Khmer monks strolling and locals running around on bridges or paddling in their small boats through the labyrinthine canals of the delta.
In addition to the normal tours to the traditional villas and cities, you can choose a relaxing cruise to observe the vibrant life of the Mekong Delta to the fullest. One of the many advantages of planning your Vietnam holidays in Winter is that insects might respect your skin more than during summer. In any case, be prudent and take some repellent with you.
And, of course, contact us to book your Vietnam holidays in Winter. We will be delighted to help you.